Rank Your Money Sites the Easy Way with PowerBlogs
Are you trying to rank sites on Google? Have you added the content to your pages? You need powerful links. There are a couple of ways to get them. You can wait for people to naturally link to your pages, you can ask people to link to your pages, you can pay people to link to your pages, or you can own your own sites and link to your own pages. Google only wants you to use the first option — wait for someone to link to you. But how can you do that in a world where people are much more aggressive about growing their businesses. It would be like being the only natural bodybuilder in a contest where everyone else is on steroids.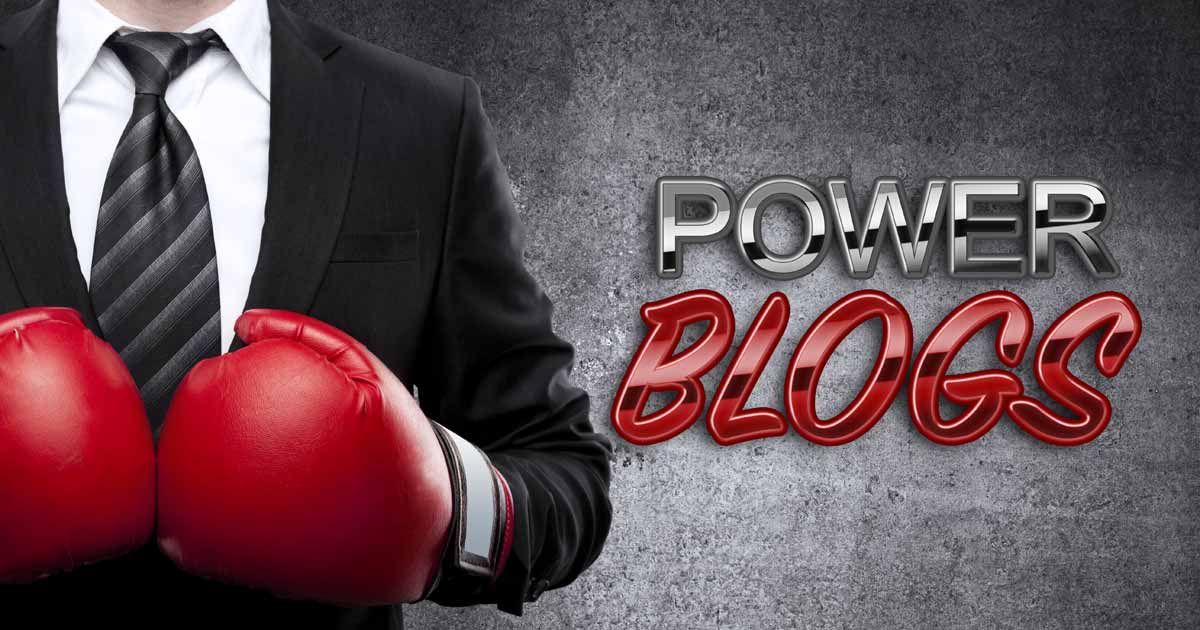 Why Do You Need Your Own PBN Sites?
It's an indisputable fact that the most important off-site factor for ranking high on Google is quality incoming links. But how do you get them? Build and control at least a portion of your own incoming links. It works great, but in all honesty, it's a hell of a lot of work and takes a team of people to do.
You can publish great content and wait for people to link to your site – but good luck with that.
You can contact other site owners and ask them to link to your site – but guess what will happen?
You can buy links from sites or private people who may sell them, but if Google finds out your site can be penalized.
You can take the bull by the horns and do what many smart website owners already do. Own or control your own PBN sites.
Benefits to Owning or Controlling Your Own PBN Sites
You can edit the anchor text at will.
You can link to as many sites as you want.
You can sell or rent links to others.
You don't have to worry about a purchased link being lost or removed.
You can monetize or boost these sites as you see fit.
Expect Rankings Like These and More
What kind of ranking increases can you expect from one PBN blog link from a PowerBlog site? Most people notice at least a 3 to 4 position improvement for the keyword they choose from each link they post when the keyword is already ranking on page 1 or page 2. Not only that, but the whole site will go up in authority and all your keywords will get a boost. Need to go up 10 positions? 3 PowerBlogs linking to your site with a similar keyword on each could do the trick. If your keyword is currently on page 5 of Google and you add 1 good PBN link it's possible that it may shoot you all the way up to page 1. All sites are different and all competition is different, so there is no way to predict exactly what your results will be, but in our experience results such as those just mentioned are very possible.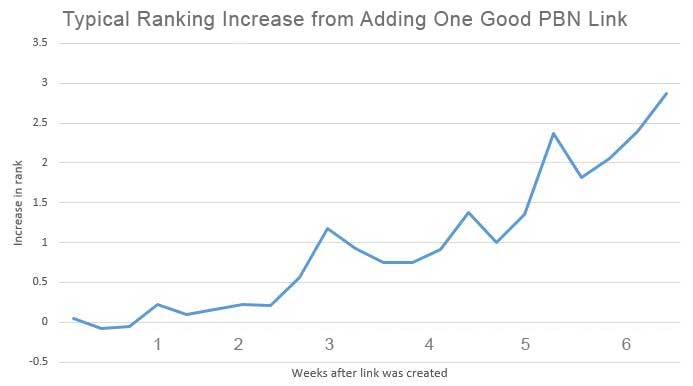 We Do the Work, You Get the Benefit
Building a PBN can be quite a pain in the butt. Here's a short list of just some of the things you have to worry about if you want to build your own PBNs.
Finding and buying domains that have the power to boost your money sites
Locating and paying for quality cheap hosting that won't fail you
Making sure all your PBNs are on different IP addresses
Making sure there are no footprints that connect your sites
Making sure all your sites look like real actual websites
Making sure your sites get indexed by Google
Making sure your sites have not been spammed or misused in the past
Additional Expenses Related to Building Your Own PBNs
Analytics and tracking software
Employees to do some of the more tedious tasks
Making sure sites do not go down, and fixing the problems if they do
Our 5 Point Pre-purchase Checklist for Domains We Own
PA (Page Authority) 20+

DA (Domain Authority) 15+

TF (Trust Flow) 15+


CF (Citation Flow) 15+

PA (Page Rank) No Longer Relevant

All domains will have at least 3 of the 4 above important metrics
We check for links to Porn, Pharmaceuticals, or Gambling.

We chack for a non-SEOed or spammed profile history.

Incoming anchor text ratio and exact match links to the site need to look unspammed.

Check the history of the site for use in porn, p

harmaceuticals, or gambling.

 We make sure the existing exact match anchor text looks natural before purchasing? Below 15% is good.
We check Archive.org for the history of redirects.
We check the registrar history for multiple drops.
Relevancy is important to Google. We deliver sites that would actually link to your site in the real world. This helps from a relevancy standpoint and also in the case of a visual inspection by Google.
Our Sites Have the Following Additional Metrics
They are guaranteed to be indexed in Google. We do not sell or rent sites that are not indexed.
They are aged after being indexed. Studies prove Google does not pass juice from sites less than 35 days old.
The metrics including incoming links are current and good. We check metrics before releasing a site.
Here's an Example of a PowerBlog PBN Site You Can Control

Let us simplify PBN ownership for you…
Join the PowerBlogs Network to get access to our sites. Although we have hundreds of sites to choose from, and we are building and aging more every day, we have limited spots and sites available.
Here are the steps….
Contact us to get on our buyer's list.
Let us know what site you are trying to rank, so we can find a PBN site that is suitable.
Review the list of options we send you, and choose your domain.
Let us know if you want us to host, if you want us to send it to you, or if you want us to rebuild it for you on your existing hosting account (charges vary).
Pay for the site you want.
Receive a link to the live site and to the admin panel.
If you are having us move the site to your hosting give us a few days to get it done.
PowerBlog Pricing:
We Host the Site
$75 per blog including the first year of hosting. Additional hosting and domain registration will be charged at $30 per year on the anniversary of your purchase. Other options are available (see the chart below). We make sure your site is running fine and the hosting account is trouble-free. You will be given editing credentials so you can make changes and add links as you see fit.
You Host the Site
$75 per blog for the site files; $10 for us to transfer the domain to you; and $15 if you want us to move the site to your hosting account for you. That's a total of $90 if you move the site and do the hosting, or $100 if we move the site for you and you do the hosting. Other options are available (see the chart below). If you have us transfer the site to your hosting we will make sure your site is running fine and trouble free. You will be given editing credentials so you can make changes and add links as you see fit.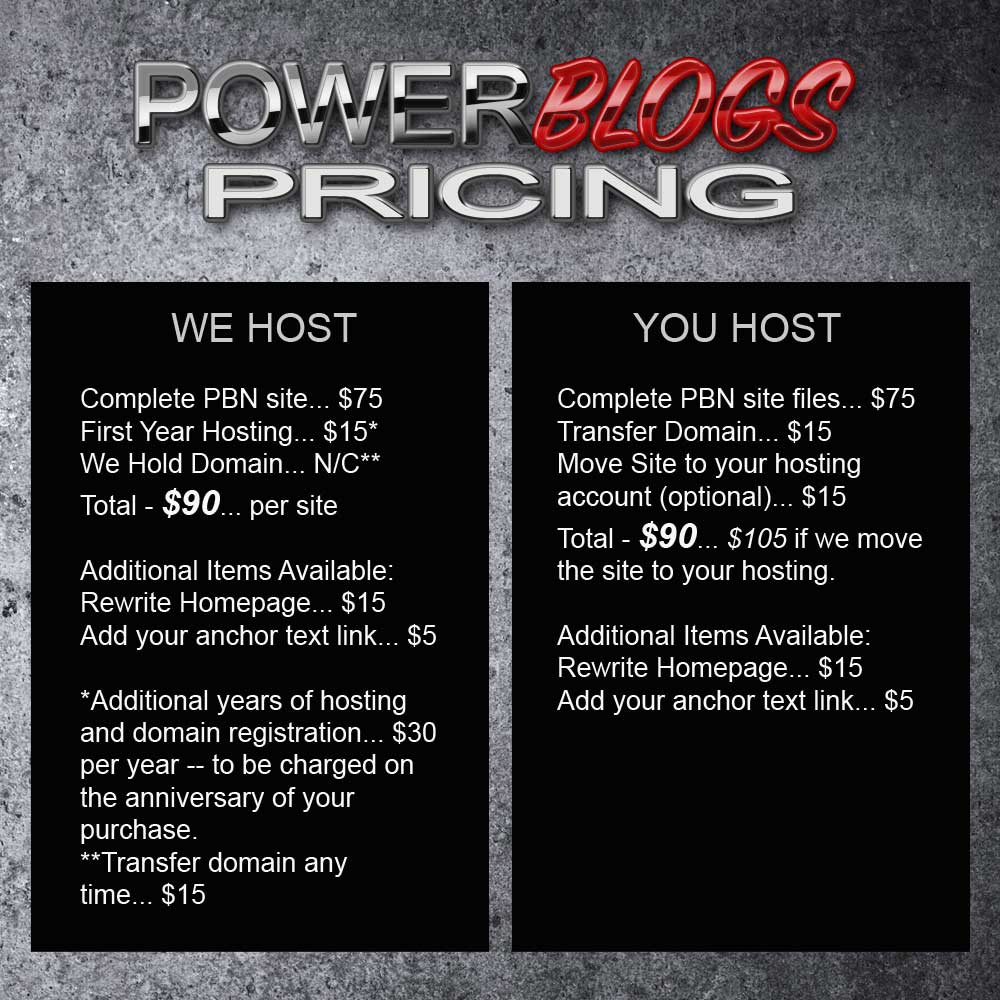 Get Started with PowerBlogs Here:
It's easy to get started. Find out about the PowerBlogs we have available for sale in your niche by visiting and liking us on our  BestWebSecrets Facebook Page . Once you have done that, click the "Send Message" button near the top of the page to contact us and let us know the URL of the site you want to rank. We will reply with available PBN site options that you can choose from. If you can't connect that way for some reason, send an E-mail to info@bestwebsecrets.com and we'll get back to you as quickly as possible.

FAQs
Can you take special orders?

Yes. Send us an E-mail to let us know what you need.

Are PBN's effective?

They are about the most effective way to rank a money site known, excpept for getting genuine high quality links from real authority sites (very hard to do).

Can I link to or boost my PBN sites?

Yes, linking to and boosting your PBN sites will not only help them to rank higher, but the juice will pass through to your money sites as well, help them to rank higher.

Suppose I decide to take my files at a later date.

If you decide to take your files at a later date just let us now 30 days or more before your yearly hosting is due and we will bill you for any associated fees, such as domain trasnfers or file transfers to your hosting account.

How long before I see positive effects?

Positive results can be seen in as little as a few days or as much as a few weeks. It sometimes takes Google a while to recognize the new incoming link to your site, however, there are ways to speed up this process, like posting to social media or using and indexing service.

What could cause a PBN not to work?

The on-page SEO of your money sites must be good. The money site must contain the keywords you are trying to rank for and it must have sufficient original content. Your money site must also not be penalized by Google. The PBN site should logically be a site that would link to you, but that it not alwasy 100% necessary.

How many sites are needed to move a money site?

It depends on your competition and the difficulty of the keywords you are trying to rank for. The more PBNs you have the more keywords you will be able to push up your money site on Google.

Can I link out to more than 1 money site from my PBNs?

Yes, you can link out to more than one money site. We recomend not linking out to more than about 3 sites from one PBN homepage as you may start to diliute the power of your page by doing so, but you can link to as many sites as you choose.

Can you move the sites and domains to my chosen host?

Yes for a small additional fee. See pricing above to find out more.

Can I publish or change articles more than one time per month?

Yes, you can change the content on your site or add to it as you see fit.

What about monetizing my sites?

Yes, you can monitize your sites. You can also boost your PBN sites by SEOing them just like any other site.

Will you sell links to others on my sites?

No, we will not sell any links on your personal PBN sites. They are yours to do with as you see fit.

Who builds the links to my money site?

We can do it either way. Just let us know if you'd like us to build the link for you, and what the anchor text and URL should be.